Nursery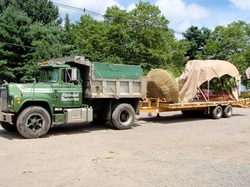 Let our knowledgeable staff help you
create a landscaping plan
including determining the trees, shrubs, ground cover, annuals, perennials, and bedding plants that will be best for your location. And, once we've determined what you need to plant, our staff can advise you on the care and upkeep to ensure healthy and happy plants.
If you just moved into a new home and need to put in a lawn, we have
grass seed and sod
. If your current lawn simply has some spots that need repair, we sell sod by the piece so you can get just what you need.
We sell
Pennington Grass Seed
– the #1 selling grass seed in the industry. Pennington produces a custom blend grass seed exclusively for Holmdel Nurseries. It is blended to grow best in the New Jersey area and climate. Pennington seed requires up to 30% less water. Pennington grass is drought-resistant and environmentally friendly.
Have a tree on your property that you love, but wish it was in a different spot?
We specialize in relocating large trees.
You can add that professional touch around trees and flowerbeds with
Curv-Rite Aluminum Edgings
. Designed for easy installation and to last a lifetime, Curv-Rite Aluminum Edgings is available in Deco-Black and Mill Finish. It's the perfect choice for your next landscape edging project.
Want to keep your flowerbeds looking neat? You can install weed fabric, a textile material that helps control weeds by inhibiting their exposure to sunlight. Once you are done planting, we have everything you need to enhance growth or eradicate disease or insects.
Espoma Fertilizer lets you keep your lawn, garden, plants and trees healthy and is safe for people, pets and the environment. Since 1929, Espoma has been the pioneer in natural gardening solutions and provides the most extensive selection of natural organic products that work in harmony with nature and make a safer world for future generations.
---